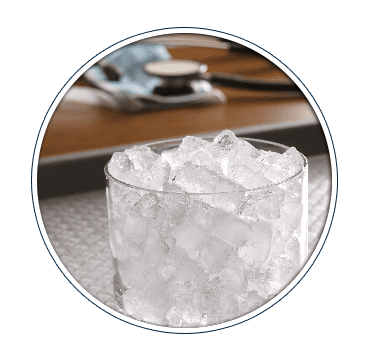 Provide the Best in Denver with Nugget Ice
---
For some industries in Denver, a traditional hard, solid cube isn't necessarily the right choice. Soft, chewable ice cube is ideal for many unique business and organization ice needs. Cubelet or nugget ice is a popular type of ice among hospitals, colleges, and restaurants throughout Colorado.
---
Get Soft, Chewable Nugget Ice from a High Quality Ice Machine in our All-Inclusive Rental Program!
Versatile Ice That is Soft and Safe
---
Depending on the machine, nugget ice comes in varying sizes from ⅜-inch to 1⁄2-inch. For patients who need to hydrate but have a hard time absorbing fluids, cubelet ice is an excellent choice as it's a small, soft cube. Commercial ice machines that produce nugget ice are also popular in school environments across Denver, because children can enjoy chewing on ice without damaging their teeth.
---
Enhance Beverages with Chewable Ice
---
Many bar and restaurant owners in Denver enjoy this ice style for its porous design. Cubelet ice also absorbs liquids, preserving the taste of beverages, and is especially suitable for sugary drinks, like margaritas and slushes. Getting a restaurant ice maker with this type of ice is a good way to add variety to your happy hour.
Denver restaurants and bars that provide food displays and salad bars also rely on cubelet ice for its malleable texture that's easy to mold.
---
Chewable, Cubelet Ice at the Right Price
---
Both Hoshizaki and Manitowoc nugget ice machines use a high-quality design that's easy to service and consistently produces ice. We keep auger systems operating smoothly and extend the machine's total lifetime in tandem with our routine maintenance at our customers locations across Denver. Because our machines last so long, we are able to provide our customers with reasonable rate inclusive of our extra services.
Key Specifics:
---
Ice Type
Cubelet Ice/Nugget Ice
Brand
Hoshizaki/Manitowoc
Shape
Cubelet/Nugget
Available Models
Hoshizaki:

F-801-C (standard)

FD-650-C (standard)

DCM-300 (standard)


Manitowoc:

Manitowoc ice machine models available for special circumstances

Width
Varies in size
Depth
Varies in size
Height
Varies in size
---
Technical Documents
---
Manitowoc Ice
Hoshizaki Ice
Featured Nugget Ice Machines