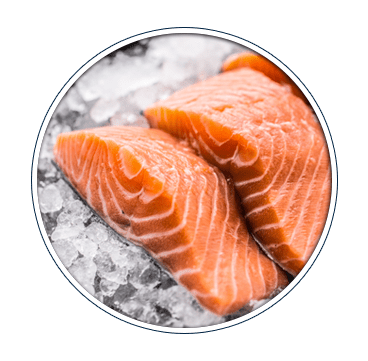 For Presentations or Food Prep, Choose Flake Ice
---
Ice doesn't have to just be for drinks or cocktails in Denver establishments. For presentations and salad bars, many customers use flake ice. Flake ice is easy to mold and wrap, so it can also be used in the healthcare field to treat and chill muscle and joint injuries.
Commercial ice equipment sold by Hoshizaki and Manitowoc produces smooth, moldable ice that's perfect for keeping things cold. With our ice machine rental program, Polar Ice ensures a consistent supply of flake ice for use in your business.
---
Never Worry About Your Flaked Ice Supply Again with Our All-Inclusive Rentals!
Create Enticing Presentations
---
With a 70% ice-to-water ratio, flake or crushed ice is compact and sticks together nicely. This versatile type of ice is used by businesses everywhere in Denver for a variety of purposes.
Our clients in the seafood industry use flaked ice is to create intricate seafood displays that highlight their products and amaze guests. For oyster bars, this type of ice maker is a must. Crushed ice can be useful for keeping oysters cold and in place on service trays at local eateries across Denver.
This ice type is also used in Denver's bar and nightclub industry to creatively hold bottles and cans in place so guests can see the selection of drinks.
---
Frost Up Specialty Drinks
---
Flake or crushed commercial ice machines is popular among customers who prefer a frosty beverage. From Mai Tais to Margaritas, the porous shape of this ice allows it to absorb flavor quickly for tasty frozen cocktails.
---
Reliable Ice Machine Care
---
Manitowoc and Hoshizaki crushed ice machines each use an easy-to-serve auger configuration that offers a continuous flow of ice. Regular maintenance is included in a Polar Ice rental in Denver, ensuring that your crush ice maker's easy-to-service auger systems continue operating smoothly and supplying the ice you need.
Key Specifics:
---
| | |
| --- | --- |
| Ice Type | Flake |
| Brand | Hoshizaki/Manitowoc |
| Shape | Flake |
| Available Models | Hoshizaki and Manitowoc models available for special circumstances. |
| Width | Varies in size |
| Depth | Varies in size |
| Height | Varies in size |
---
Technical Documents
---
Manitowoc Ice
Hoshizaki Ice
Flaked Ice Models by Request Only. Contact Our Sales Team for More Details.