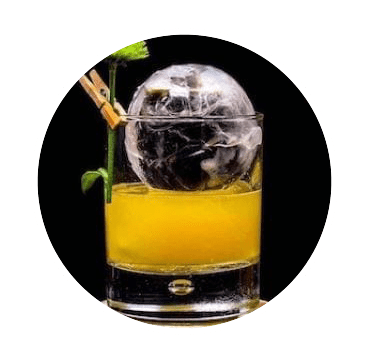 Slow-Melting Sphere Ice Balls for Spirits and Cocktails
Elevate the appearance of top-shelf spirits and allow your cocktails to retain their taste longer with sphere ice balls from Hoshizaki in Denver. With sphere ice, you're able to keep delicate spirits flavorful while chilling them thoroughly. Your customers can take time savoring their favorite cocktails because this type of ice cube melts nice and slow.
---
Upgrade Your Ice with a Sphere Ice Machine Rental from Polar Ice!
Don't Be Square, Be Sphere Instead
---
Only the cleanest water flows into the evaporator chambers of Hoshizaki's sphere ice cube makers, so you'll have clear ice every time. Two half-domes of ice come together to make a perfectly round ice cube that's perfect for any cocktail. You'll always have the clearest sphere ice cubes because Hoshizaki restaurant ice makers remove high-mineral water during the ice-making process.
---
Sphere Ice, a Bartender's Best Friend
---
As the ideal commercial ice machine for bartenders, sphere ice makers like the Hoshizaki IM-50BAA-Q are even compact enough to fit under bars. These machines can produce up to 50 pounds of ice per day, producing around 500 solid sphere cubes during each cycle. The stainless-steel exteriors of these machines are clean looking, and their production withstand even the busiest bars in Denver.
---
Dependable Ice Supply with an Innovative Design
To produce crystal-clear sphere ice cubes, Hoshizaki machines use only the cleanest water. In a Polar Ice rental, we also include biannual preventive maintenance and professional ice machine cleaning and service to keep your ice cubes safe and sanitary in Denver. Taking your guests experience to the next level has never been easier than with sphere ice from Polar Ice.
Key Specifics:
---
| | |
| --- | --- |
| Ice Type | Sphere Ice |
| Brand | Hoshizaki |
| Shape | Sphere |
| Available Models | IM-50BAA-Q |
| Diameter | 1.8" |
---
Technical Documents
---
Hoshizaki Ice